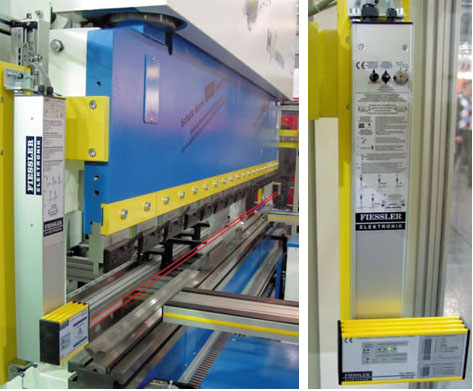 System solutions
Our system solutions are based on meticulously designed and perfectly coordinated technologies which – needless to say - comply with all applicable international safety stipulations and standards. Take a moment to click through our large selection of hazard point, danger area and access safeguards.
Press brakes
Shears
Sawmills
Folding machines
Punching nibbling machines

Function description

The Press brake Laser guarding System AKAS®-II is is a special protective device for press brakes. It consists of transmitter, receiver and LSUW N1 MUTING K controller (switching unit) or the Safety Controller FMSC.

The AKAS®-II transmitter gereates two modulated visible red laser beams. The AKAS®-II receiver consists of three detecting elements and of one evaluation unit.

Transmitter and receiver are fixed to the ram of the machine and form a Laser-optical safety light grid which is located in front of the bending punch. With the Laser-optical safety light grid AKAS®-II the hands remain free for handling the slug during the operation under continuous protection of the extremities during the whole bending process.




pressbrakes Areas of application:

Innovative finger guarding system for pressbrakes by following LASER optical safety light grids in front of the tool.
Finger guard works during the foot pedal controlled bending process => hands remain free for the operation with the slug.
Increase of productivity due to programmable adaptation of the AKAS® II to the individual overrun traverses of the machine.
Short change-over times due to all-automatic change-over to other tool sizes.
Press brake guarding.
Shears with pressure pad.
Blanking presses.