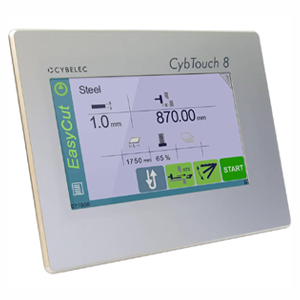 CybTouch 8 W
CybTouch 8 W is specifically designed for sheet-metal cutting, particularly for swing shears. With its vivid color touch screen and a high integration of functions, it was designed so that anybody could start using it right away. Thanks to its large keys, intuitive interface, online help and many other automatic functions that constantly guide the operator , the CybTouch 8 W is extremely easy to use. Its robust design is available in panel or housing version.
CybTouchTools
As all CybTouch, CybTouch 8 W is delivered with CybTouchTools. This software allows wireless transfer of data between a laptop computer and CybTouch (requires optional RFLink USB key). It is used to backup/restore machine parameters, tools and parts, as well as updating the firmware. DOWNLOAD THE FLYER
Features:-
Easy Operating
Intuitive and user-friendly interface.
Large, vivid and high-contrast touchscreen.
Clear display, large keys, simple pages displaying all the information the operator needs.
Very simple single cuts with EasyCut page.
Programming allows efficient mass-production of complex cuts.
Online help and warning pop-ups make it a very user-friendly software
Better Cutting
Automatic calculations of shear functions according to materials.
Automatic blade gap or cutting angle.
Automatic back gauge correction.
Automatic back gauge foldaway.
Front or back gauge management.
Anti-twist management.
2/3- position sheet support.
Return to sender function (RTS)
Customer Benifits
Easy to use for any operator through simple and intuitive full touch screen programming.
Quality and productivity increase.
Powerful features for easy operating and better cutting.
Powerful
Comfortable wireless software updating and data backup using PC or Notebook.
Large cutting sequences and programs can be memorized.
Available in many languages.