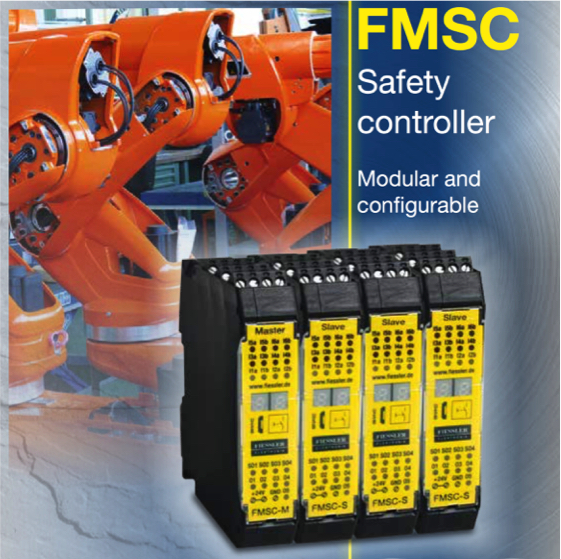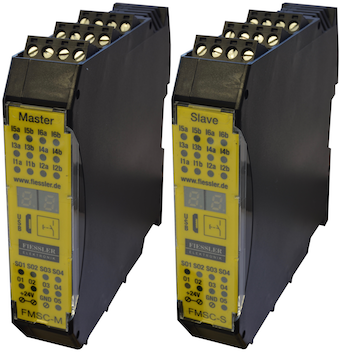 FMSC the Safety PLC from Fiessler Elektronik
Fiessler Elektronik has consequently implemented its more than 60 years of experience and know-how with the new and configurable modular FMSC safety controller. The development not only focused on the high standard of safety but also on how to simply and rapidly implement projects. Miscellaneous functionalities, such as creating combinations, make it easier for the user to program the safety controller. Already created projects can also be comprehensively documented. Rapid response times as well as the safety-oriented monitoring of up to 17 axes round off the profile of the new FMSC safety control.
The modular structure of the FMSC system family ensures that the most efficient hardware solutions will always be found for a monitoring task. The variations Eco, Basic, Advanced and Professional provide a selection of different master devices with a respectively different range of functions. The corresponding functionalities are simply integrated or configured with the programming software, FMSC Studio. The system can be expanded at any time with up to 16 expansion modules. As a result, up to 204 digital inputs and up to 153 digital outputs are available today. And up to 17 axes can be monitored for safety. The compact design makes it easy to integrate the safety control in new systems as well as for retrofitted systems.
FMSC properties
Emergency shutdown (fast shutdown function) max 0.5 ms.
Switching-off delay of safe outputs, also in case of error.
Up to 17 axes can be safely monitored.
Expandable with up to 16 expansion modules.
Very fast cycle times.
Easiest programming.
Versatile certified software modules.
Cost-effective system structure through use of expansion modules.
Short standstill times through extensive diagnostic possibilities.
Comprehensive know-how protection by setting different access passwords.
Maximum safety – PL e – SIL CL 3 – CAT 4.
Realization of safety functions in acc. with EN 61800-5-2.
Connection to different field bus systems.

Range of functions
The FMSC system family has the right solution for each task. Compre hensive functions enable maximum flexibility with a convincing cost- benefit ratio. Examples:
Emergency shutdown (fast shutdown function)
If the rather fast cycle time of the FMSC is still too slow, the hardware configurator can configure the emergency shutdown. The maximum switch-off time then is 0.5 ms. To ensure every single application has an optimal shutdown behavior, the emergency shutdown can be bypassed in the application program according to situation. This provides maximum flexibility regarding an emergency shutdown.
Switch-off delay of outputs - also in case of a fault
For many applications, the switching off behavior of safety controllers in case of a fault leads to risks for humans and machine. Conventional safety controls for internal or external hardware errors set all outputs to the secure state, resulting in the development of dangerous centrifugal forces. To exclude these hazards outright, the FMSC system family has a configurable switch-off delay for every single safety output. This specific type of shutting down offers protection from consequential damage.
Speed monitor - safe, flexible and fast
The FMSC system family can safely monitor up to 16 axes. Different, pre-finished software modules cover any application as per EN 61800-5-2. For example, different speed profiles to be monitored can be allocated to an axis. Direction and standstill detection round off the requirement profile. Direction of rotation, resolution and sensor types can be simply and readily selected from the hardware configuration. The individual counter values are then processed further in the FMSC application program.
Safe Stop 1: SSI
Safe Stop 2: SS2
Safe direction of movement (safe direction): SDI Safe operation stop: SOS
Safe speed monitor: SSM
Safe speed range: SSR