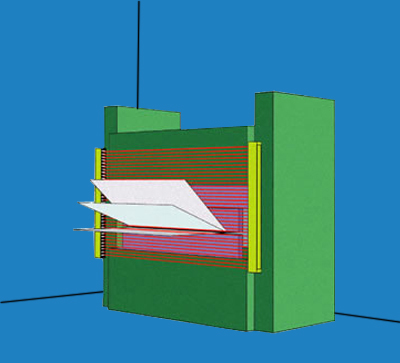 Safety Light Curtains with Blanking features BLVT
Function description
ULCT/BLCT safety light curtains each comprise two components: Light transmitter and light receiver. The clearance between these two components and the installation height determine the width and height of the protective field (Figure 5/1). Modular design permits realization of protective field heights ranging from 100 mm to 1500 mm in 100-mm steps.
The transmitter generates infrared light beams in rapid pulses. These parallel light beams are analyzed by two single-chip controllers in the transmitter.
The beam spacing determines the resolution. If an object enters the protective field, i.e. if at least one light beam is interrupted, the receiver's two outputs stop the machine or prevent it from starting, thus avoiding hazards.
In the restart with interlock operating mode, the machine can only be restarted by means of the start button once the protective field has been cleared again.
Areas of application:
The safety light curtains BLVT designed especially for their use as protection devices at hazardous sites and areas, as well as pedestrian access. By the use of the blanking features, moving or stationary objects can be blanked.
BLVT provide the prevention of bodily injuries of fingers, hands, and limbs, e.g. when working at:
raw material converting presses operated in the metal, wood, plastic, rubber, leather, glass industry.
filter presses.
folding and bending machines.
die-casting machines.
processing lines and welding presses.
insertion machines.
robots.
palletizers.
Properties
Blanking features for blanking any obstacles in the detection field integrated switching unit, contactor control and restart interlock activated by Dip-switches
can be connected directly to contactors/valves, switching capacity 0,5A/24V.
minimum safety distance due to short response times, between 5 ms and 25 ms, depending on constructional length.
detection of smallest obstacles (14 mm / 30 mm) inside a detection range of 7 meters / 24 meters.
between 7 and 247 beams with protective heights from 100 up until 2500 mm micro-processor controlled safety functions.
muting and stroke operation with optional safety control-unit PLSG.
self-monitoring semiconductor outputs with line interruption monito ring, short-circuit- and side current passages check.
built-in self-diagnosis with error display.
protective system IP 65 (waterproof sealed).
The light curtain correspond to the highest safety regulations:
Safety Integrity Level SIL 3 (IEC 61508)
Performance Level PL e (ISO 13849-1)
Safety category cat. 4 (EN 954-1)