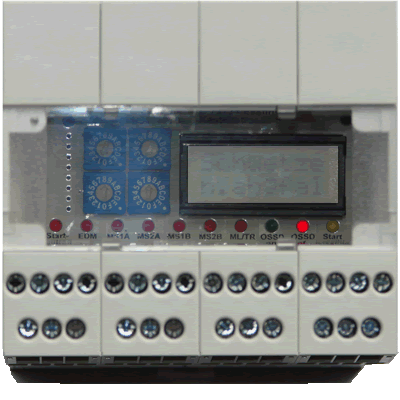 Series PLSG switchgear saves costs due to:
Funtional description
Muting is the brief interrruption of a safety light barrier and is used wherever this is rquired by the the working cycle. For doing so, the Muting channels 1A, 2A and 1B and 2B must be under voltage. Muting is permitted only if the nature of the work cycle excludes any access into the hazardous area, or during non-hazardous machine movements.
This is the case whenever, for instance, material is conveyed through the protctive field in a way that there is no space for entering the area between material and safety light barrier, or if there is no hazardous movement. Application fields are e.g. safeguarding of pallettizers, narrow-aisle storage facilities, fork lift access areas, manufacturing cells, bending presses, rubber presses, presses with automatic material feeders, etc ...
Properties
Muting sensors / Muting lamp / Start button directly connectable
1 - 4 cycle control
programming of blanking functions
restart interlock / valve control
provides Muting function
2 external Muting lamp connectable
snap-on controller for the light curtain / light grid
LCD display for easy diagnosis and programming
small design
Safety Integrity Level SIL 3 (IEC 61508)
Performance Level PL e (ISO 13849-1)
Safety category cat. 4 (EN 954-1)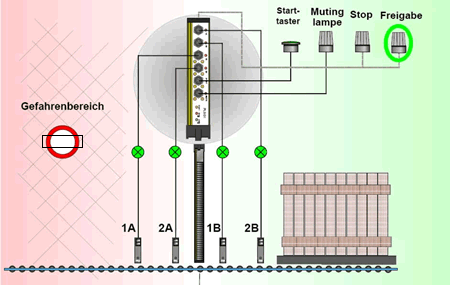 Function description
The muting function enables personal protection without impeding the material flow
Safeguarding access to automatic production plants.
Safeguarding drive-in openings to production cells.
Safeguarding palletizing plants.
Conveying and storage technology.
If the muting sensors are arranged properly, it is not possible to simultaneously interrupt any of the sensor pairs.