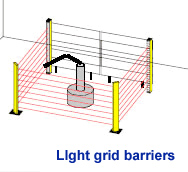 ULVT-Grid
Function description
The safety light curtains ULVT consist of the two components: transmitter and receiver. The distance between both components and the overall height result in those protection width and - height. By the modular construction protection heights of 100mm to 1900mm are realizable. Special sizes are also available.
If an object is in the protection field, i.e. it is darkened at least one of the beams, the two outputs of the receiver interrupt the dangerous movement of the machine, or prevent a start. A renewed start of the machine is in the operating mode with restart only possible by pressing the start push-button during a free protection field.
Several LED at the receiver display thereby the respective operating condition. The system detects an internal or external error the machine is immediately switched off and the LED in the transmitter or in the receiver shows by flashing the error status.
Field of application:
Passable areas.
Horizontal safeguarding.
Robotic areas.
Entrance to dangerous areas.
Properties
integrated control-unit with contactor control and restart activatable by DIP switches activatable.
contactor/valves directly connectablly, switching capacity 0,5A/24V.
2 to 20 beams at protection heights of 100mm to 1900mm in 100mm steps.
microprocessor monitoring of the safety functions.
built in selfdiagnostic with error display.
muting and stroke operation with optional safety control-unit.
short reaction time.
protective system IP65.
Reach to 24 m/optional till 60 m practicable.
The light curtain correspond to the following safety regulations.
Safety Integrity Level SIL 3 (IEC 61508)
Performance Level PL e (ISO 13849-1)
Safety Category Cat 4 (EN 954-1)