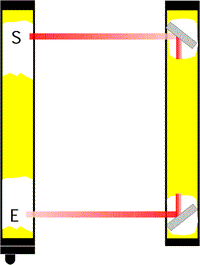 Light grid barriers ULVT 500 / 2R
Function description
The ULVT 500/2 R safety light-grid consits of two components: combined transmitter/receiver unit and mirror unit. The combination of transmitter and receiver unit in one single housing reduces the expenditure of cabling (electrical connection only on the combined transmitter/receiver unit).
The interruption of the hazardous motion is realized by a discretely built sequential safety circuitry. For various protection measures, application-optimized switching units of the LSUW series are available.
Field of application
metal presses for wood, plastic, rubber, leather, glass processing.
filter presses.
folding and bending machines.
injection moulding machines.
machining centres and welding presses.
pick-and-place machines.
robots, palettizers.
protecting storages.
doors and gates etc.
Features
The safety light grid ULVT 500/2 R is an electro-sensitive protective device (ESPE) and designed for protection of persons from accidents.This is realized by protecting the hazardous sites and areas, enabling any access to hazard inhibiting parts of the machine only by crossing the protective field createdby the light barrier. When entering the protective field, the light beams are interrupted and the machine will be reliably stopped.
Safety light grids ULVT 500/2 R are characterized by:
examination by the German technical surveyor authorities (TÜV).
compliance with safety category 4, EN61496.
built-in self-monitoring device without auxiliary circuitry.
integrated switching unit features valve control, restart interlock.
compact, sturdy structural shape.
simple installation and adjustment.
EEx-P optionally available
Safety class 4 safety light-grid