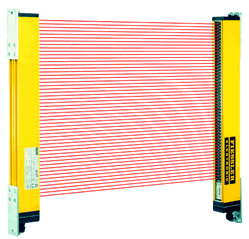 Light curtains ULVT
Function description
The safety light curtains ULVT consist of the two components: transmitter and receiver. The distance between both components and the overall height result in those protection width and - height. By the modular construction protection heights of 100mm to 1900mm are realizable. Special sizes are also available.
Transmitter and receivers operate synchronously, i.e. at the same point in time only a light beam and a reception item are active. The synchronisation is made by the first light beam and the first reception item. Between transmitter and receivers therefore no electrical connection is necessary. The transmitter creates infrared light beams, which are switched on and off rapidly successively. The parallel light beams with a distance from 7,5mm are controlled by two a chip micro controllers. A resolution of 14mm is realised by the beam distance.
Synchronously to the light beams of the transmitter in the receiver all reception items are analysed by two a chip micro controllers. If an object is in the protection field, i.e. it is darkened at least one of the beams, the two outputs of the receiver interrupt the dangerous movement of the machine, or prevent a start. A renewed start of the machine is in the operating mode with restart only possible by pressing the start push-button during a free protection field.
Several LED at the receiver display thereby the respective operating condition. The system detects an internal or external error the machine is immediately switched off and the LED in the transmitter or in the receiver shows by flashing the error status.
Area of application
Prevention of bodily injuries of fingers, hands, and limbs, e.g. when working at:
Raw material converting presses operated in the metal, wood, plastic, rubber, leather, glass industry.
Filter presses.
Folding and bending machines.
Processing lines and welding presses.
Insertion machines.
Robots.
Palletizers.
Properties
integrated control-unit with contactor control and restart activatable by DIP switches activatable.
contactor/valves directly connectablly, switching capacity 0,5A/24V
smallest safety distances by short response times 4,5ms to 24,5ms, depending of the protection high.
smallest obstacle recognition of 14mm from 0,3m to 7m range.
protection heights of 100mm to 1900mm in 100mm steps.
microprocessor monitoring of the safety functions.
built in selfdiagnostic with error display.
muting and stroke operation with optional safety control-unit PLSG
protective system IP65
The light curtain correspond to the following safety regulations:
Safety Integrity Level SIL 3 (IEC 62061)
Performance Level PL e (ISO 13849-1)
Safety category cat. 4 (EN 954-1)